Online.io Review
Internet browsing is constantly changing, and the days of only being able to surf using Internet Explorer are over. With a multitude of browsers including Firefox, Chrome, Safari, users have a lot of choices. However, what all these browsers have in common is that they do not protect the anonymity of their users. For this reason, browsers like Opera and TOR have gained ground.
The latter two browsers still do not solve the issue of the web being clogged with incessant ads, pop-up windows, spam, malware, and spyware, all attempting to get the attention of Internet users. Whilst this ensures that advertisement companies have access to a lot of data, it lessens the experience for Internet users.
What Is Online OIO?
Online.io is a platform that wants to solve this problem and create both a better browsing experience for users and a more fair revenue stream for websites.
The platform uses blockchain technology to ensure that everything is decentralized, transparent, and scalable.

Most importantly, however, the platform will be free from malware, spyware, intrusive ads, and spammy messages. Websites will get their ad revenue paid out based on how many visitors they have, and how much the visitors engage with the website's content.
How does it work?
Any content that is displayed by an Internet browser eats up processing power and data. Whilst some online advertisements are small and insignificant, others take up much more data than the content users are actually trying to access. This slows down the browsing experience. Online.io will bypass all of that, which will lead to a much smoother experience.
Users will also not have to worry about their data being captured and used for purposes outside of their control, as the blockchain encryption will ensure that their data is protected. A very useful feature of the Online.io platform is that users will vote websites up or down in line with their experience using it. This will lead to website ranking being more reflective of popular opinion.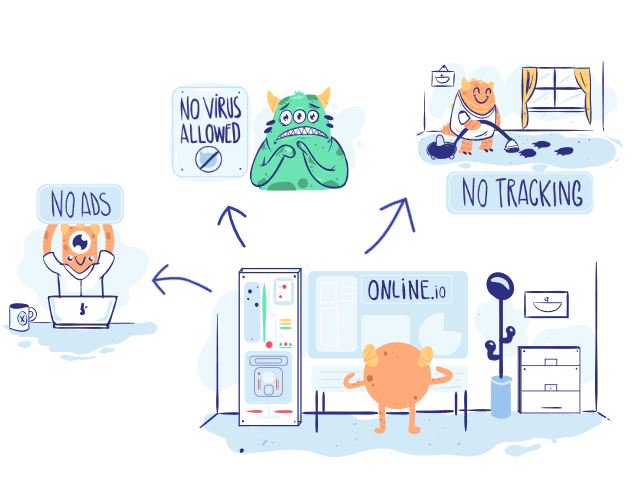 This will, in turn, incentivize website operators to optimize their websites to improve the user experience. The fact that websites will be rewarded based on how much their website is visited and engaged with will also disincentivize spam websites.
Main features
The four main features Online.io prides itself on as a platform are privacy, trustworthiness, security and being ad-free. The privacy feature allows users to avoid their data being collected without their consent, which companies are currently doing to create consumer profiles.
The trustworthiness feature will come in the form of users ranking websites based on their experience, rather than the website's SEO or other arbitrary feature.
The security feature will eliminate the presence of spam, phishing, malware, spyware, and any other malicious content, which will make browsing more secure for everyone involved.
Finally, even regular ads will be removed, which will allow for users to have a hassle-free browsing experience. These four features will ensure a safer online environment for everyone involved.
Other Information:
- bitcointalk ANN
- bitcointalk my profile
- Online.io Telegram